Using Google Search data we analysed more than 6,000 ski-related terms to reveal which Canadian cities are the most snowsports obsessed and whether skiing or snowboarding is more popular to each city's population.
Key takeaways/findings
The most snowsports obsessed cities in Canada are Kelowna (BC), Burnaby (BC) and Vancouver (BC) according to Google search data (on a per capita basis).
Kelowna ranked no.1 with a snowsports search volume of 545,652 per capita (100,000), 683% higher than the national average.
The cities which had the lowest interest in snowsports were, Sydney (NS), Okanagan (BC), Windsor (ON), Winnipeg (MB) and Oshawa (ON). Sydney's search interest per capita was 94% lower than Kelowna.
Nationally, 68% of searches were for snowboarding, compared to 32% for skiing.
Kingston (ON) had the highest share of skiing related searches, Saguenay (QC) had the highest share of snowboard related searches.
British Columbia featured six times in the top 10, making it the most snowsports obsessed province in Canada
The most snowsports obsessed Canadian cities according to Google
Looking on a per-capita (per 100,000 people) basis we ranked the 50 largest cities in Canada based on their search interest in snowsports, as well as the split in interest between skiing and snowboarding.
When analysing the latest search data from Google, Kelowna (BC) was crowned the snowsports capital of Canada, ranking number one for searches per capita (545,652).
On a per capita basis, Burnaby (BC) came in second, followed by Vancouver (BC) in third and Coquitlam (BC) in fourth.
When looking at the capital cities of each province, Edmonton (AB) ranked 17th, Victoria (BC) ranked 27th, Winnipeg (MB) ranked 47th,  St. Johns (NL) ranked 33rd, Halifax (NS) ranked 36th, Toronto (ON) ranked 31st, Quebec City (QC) ranked 42st and Regina (SK) ranked 23rd. Fredericton (NB) and Charlottetown (PEI) didn't feature in the list of the top 50.
Skiing vs snowboarding : which is more popular in each city?
The study also looked at the popularity of different snowsports by assessing the percentage of searches related to either skiing or snowboarding. The analysis found that at a national-level, 68% of the search interest was for snowboarding, compared to only 32% for skiing.
At a city level, Kelowna had a relatively similar split to the national average, 64% for snowboarding and 36% for skiing. Saguenay (QC) recorded the strongest skew towards snowboarding, with 94% compared to only 6% skiing. Kingston (ON) on the other hand had the higher share of skiing search at 59% vs 41% snowboarding.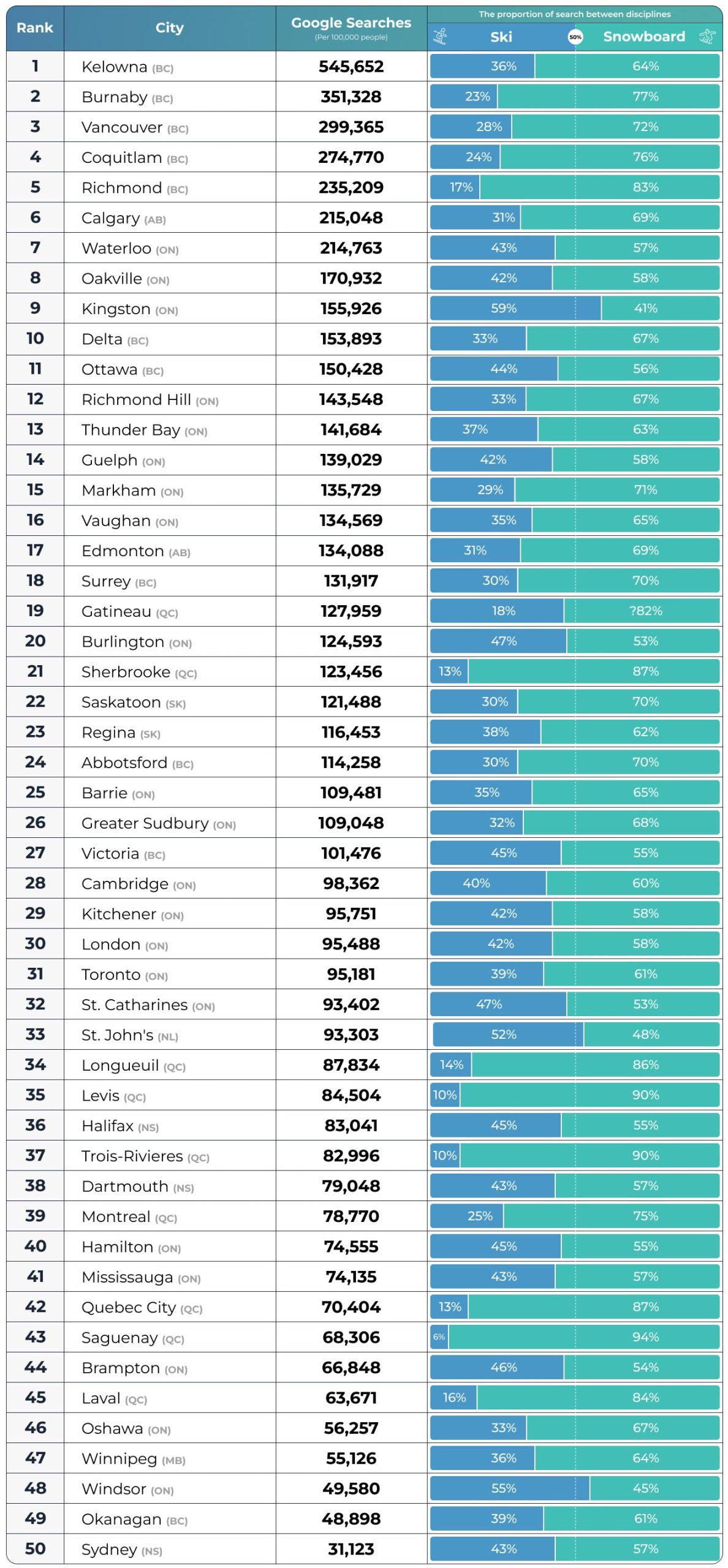 How does Canada compare to other countries
We also looked at the same metrics at a national level to see how Canada fared against the United States, United Kingdom, Australia and Ireland. Out of the countries, Canada had the highest search volume per capita, 44% higher than the USA. Canada also had the highest share of snowboarding searches compared to skiing.
Snowsports searchers (per capita)
Canada : 69,687 searches
USA : 48,248 searches
Australia : 45,708 searches
UK : 39,764 searches
Ireland : 34,872 searches
Split between skiing and snowboarding
Canada : 32% skiing, 68% snowboarding
USA : 39% skiing, 61% snowboarding
Australia : 34% skiing, 66% snowboarding
UK : 55% skiing, 54% snowboarding
Ireland : 70% skiing, 30% snowboarding
Conclusion
Our study has revealed a remarkable and widespread passion for snowsports throughout Canada, affirming its status as a true winter sports enthusiast's paradise. From the picturesque Rocky Mountains' legendary big mountain terrain to the pristine powder and backcountry riding experiences, Canada boasts an unparalleled winter sports landscape. What truly sets Canada apart, however, is not just its stunning natural beauty but also the warmth and hospitality of its people. The combination of world-class skiing and snowboarding opportunities with the genuine friendliness of locals makes it an ideal destination for those seeking to work a winter season.
Whether you're drawn to the vibrant atmosphere of bustling ski resorts or the serenity of charming mountain towns, Canada offers a diverse range of experiences for snow sports enthusiasts and seasonal workers alike. So, for those seeking adventure, camaraderie, and the chance to immerse themselves in some of the most breathtaking winter landscapes on Earth, Canada unquestionably stands as one of the best places to pursue their dreams. We encourage you to explore the resorts and opportunities for Canada ski jobs, as this country's passion for snow sports is bound to leave an indelible mark on your winter season adventures.
The Methodology
Using Google Data (Keyword Planner) we analysed data for a full 12 months between November 2022 and October 2023.
A seed set of keywords was used to generate a complete list of keywords (6,184) covering a broad cross-section of snowsports terms from ski resorts, activities, brands, athletes and other relevant search queries. This keyword list and associates search volume was then segmented against each of the 50 cities through targeting in the Google platform. The national and 50 cities' population was sourced from https://www.worldometers.info, using an estimation which is an elaboration of data by United Nations, Department of Economic and Social Affairs, Population Division. The following cities were not targetable on Google therefore they were not included in this analysis: North York, Scarborough Etobicoke, Ladner, Nepean, Anmore and East York. So the next 7 largest cities were used in their place.
For the ski and snowboard comparative statistics, the total 12 month search volume for "Skiing" or "snowboarding" was worked out as a percentage by totally up the two and dividing by each discipline. 
For the national-level analysis the same process was followed and population estimates data were also collected from https://www.worldometers.info.