Ski Holidays and Jobs in Darbandsar, Iran
Discover information on ski holidays and jobs in Darbandsar
Darbandsar
Iran
Other Iranian Resorts

Darbandsar is found in the Alborz Mountain range, north of the Iranian capital Tehran. It is around 10 minutes from Shemshak, and around 30 minutes from the biggest resort in Iran – Dizin. The towns of Shemshak and Darbandsar are very close to each other and can be considered as the same area, although the ski areas are not linked.
Darbandsar is definitely worth checking out if you are skiing or snowboarding in Iran. You might like to spend a few days here out of your trip to Iran, but you should also check out the other resorts of Shemshak and Dizin nearby.
The scenery at the top of Darbandsar is truly spectacular with a massive view around the spectacular Alborz Mountain Range. The lift at Darbandsar is a little higher than the highest lift at Shemshak. It is absolutely worth coming up to Darbandsar for a day trip from Tehran even if you don't ski or snowboard.
Darbandsar is the only one of the Iranian resorts with snowmaking – the others rely on natural snow.
For information on visas and travel in Iran, see the Guide to Skiing and Snowboarding in Iran which has all the proper information on Iran.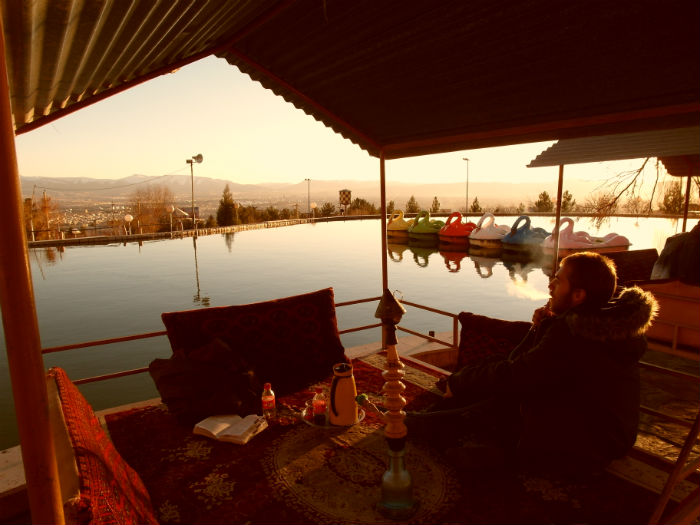 The Terrain at Darbandsar
Darbandsar has just four lifts and is a little smaller than Shemshak. There are three lifts to a mid-point, and then one other lift to the top of the mountain. The on-piste run is a little easier than Shemshak, however there is a little more off-piste options at Darbandsar than at Shemshak. Darbandsar is much smaller than Dizin.
The lift up to the top is quite long at Darbandsar and makes for a very long piste back down the mountain. Because there is just one lift to the top, the lift line can be reasonably long, especially on the weekends (Iranian weekends are Thursday and Friday).
There is some great hiking to do at Darbandsar as well to access some juicier terrain. A lot of Iranian riders tend to stay on-piste too, so there is a good chance of getting fresh tracks to yourself. As always, be sure to take all avalanche precautions, particularly as this is Iran and the standards of avalanche priming might not be as good as in Europe or North America. Ask for local advice on conditions before going into the backcountry.
The resort is very high so the snow quality holds very well. It doesn't dump down especially, but the snow holds well after a fall. There is grooming daily so the runs stay relatively nice and not too icy. Off-piste snow can be awesome, especially where you need to hike.
Lift Tickets and Costs
A ticket for the day at Darbandsar costs 900,000 Rial (USD 25). You can hire gear for the day for around 1 million Rial (USD 30). The gear you can hire is actually quite good and relatively new.
Getting to Darbandsar
The best way for tourists to get to Darbandsar is by taxi. You will need to haggle with a taxi driver in Tehran to see if they will take you up. Most taxi drivers will be ok with you putting your gear in the taxi if they agree to take you up.
Darbandsar is located along the Fasham Road along the way to the biggest resort in Iran – Dizin. It takes around 1.5 hours to get there from Tajrish Metro Station in Tehran, and longer from places further south in Tehran.
Tajrish Metro Station is the northernmost metro station in the city. From there, you could find a taxi for around 700,000 Rial (USD 20). You can sometimes find van taxis at Tajrish which is very handy if you have a group of four or more, or you have gear you want to take up. You should expect to pay around 1.2 million Rials (USD 35) for a van up to Darbandsar.
There is no taxi rank to get back down at the end of the day. The best way is to ask someone (the person you hired gear from is a good idea!) to call you a taxi and one will magically appear. Iranian helpfulness at its best! The traffic in Tehran can be horrendous so you should factor that into your trip. It is best to leave early in the morning if going for a day trip. The trip down can get bad as you hit Tehran's traffic.
Finding Accommodation
Like Shemshak, Darbandsar lends itself to day trips quite well as it is only 1.5 hours from Tehran (although that can be longer getting back given the traffic in Tehran). You can find plenty of cheaper hostels and hotels in Tehran.
If you are staying up on the mountain, it is a good idea to stay at Dizin resort, which is about 35 minutes away. Dizin has large hotels that will almost always have space, plus it is a much livelier town than Darbandsar. Nonetheless, there are still a few places to stay at Darbandsar.
The on-mountain accommodation at both Dizin and Darbandsar is really, really cheap. The rooms will have a private bathroom and 2 singles or a double costing about USD 50 a night. There are also several privately-owned cottages around that can be rented out in both Dizin and Shemshak. Prices for these vary on the quality of the cottage. You could also find quite a nice chalet at Dizin or Darbandsar if you have a larger group. This is a pretty sweet way to stay up at the Iranian mountains.
Visas and Jobs
See the Guide to Skiing and Snowboarding in Iran for information on visas.
Most jobs at Darbandsar go to locals. The lift operators are usually old guys who live in the area and take this as their winter jobs. In any case, you would need to hold an Iranian passport and speak Farsi to work at Darbandsar which is a much more local resort than Dizin. Because of the cheap prices, it is much easier to simply come to Iran and just go riding every day until your money runs out!