If you're planning a ski or snowboard trip to Japan this year to experience the infamous powder snow known as "Japow", we've worked out the best weeks for snowfall at some of the most popular ski resort destinations.
The study analysed the daily recorded snowfall at five of Japan's most popular resorts (Niseko, Hakuba, Myoko, Nozawa Onsen and Furano) over the last 10 winter seasons (from 2012/13 to 2022/23) to determine which weeks are predicted to be the snowiest over the coming winter season (2023/34).
The analysis found the week of 31st Dec 2023 to 6th Jan 2024 is predicted to be the snowiest on average when looking at all resorts in the study. However, there is large variation from resort to resort given the geographical size of the country.
Niseko : The best times to go
If you're planning to ski in Japan's hugely popular Interconnected resort of Niseko in Hokkaido, the week of 24th Dec 2023 to 30th Dec 2023 is predicted to record the largest amount of snowfall this season, receiving 86.3cm on average over the last 10 seasons. This week was closely followed by 7th Jan 2024 to 13th Jan 2024 (81.7cm) and 17th Dec to 23rd Dec (79.7cm).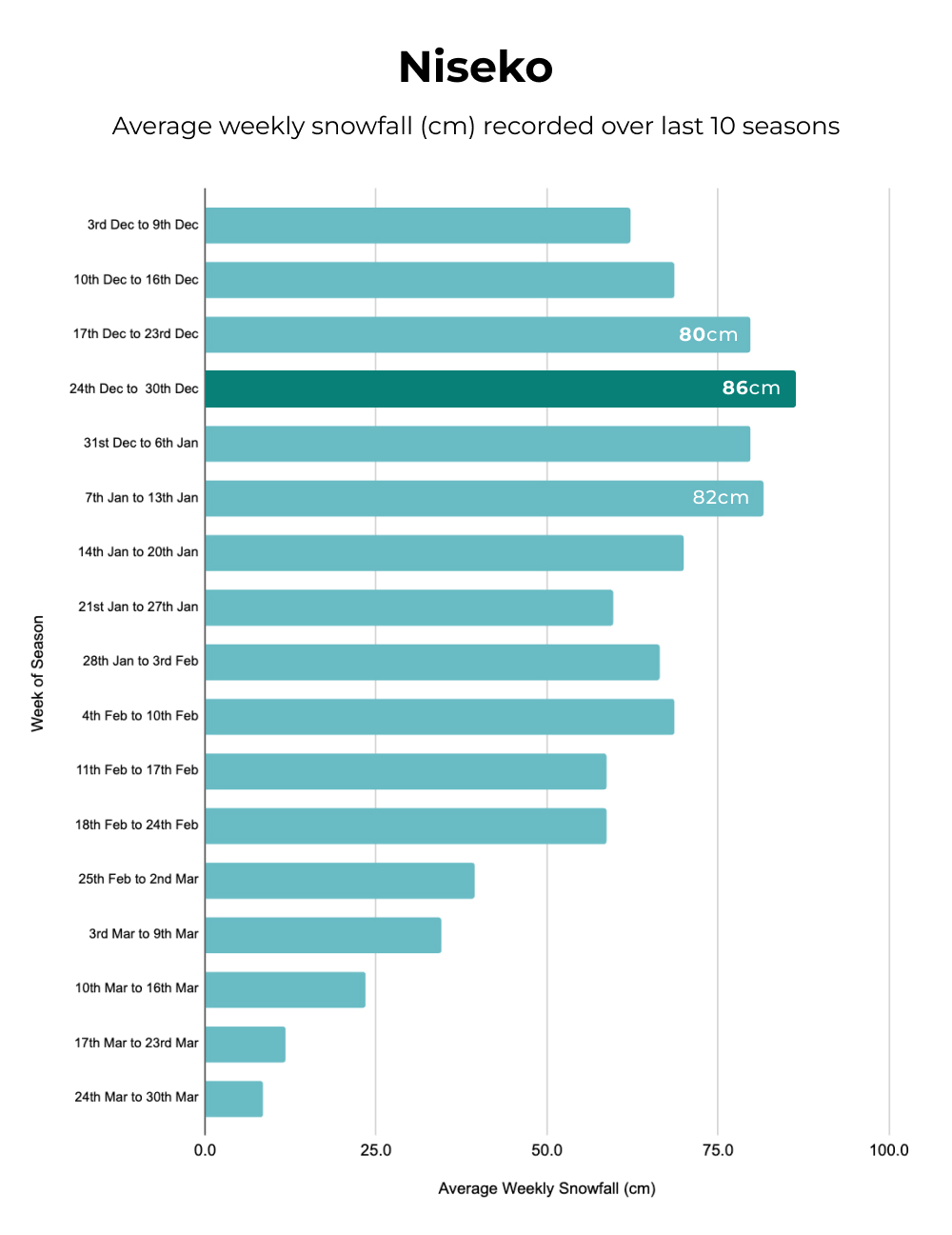 Hakuba : The best times to go
After hosting the 1998 Winter Olympics, the various resorts that make up the Hakuba Valley have continued to be one Japan's most popular snowsports destinations. 17th Dec to 13rd Dec 2023 is predicted to be the snowiest week of the season, having historically received 41.9cm on average over the last 10 seasons. The week of 21st Jan to 27th Jan 2024 was a close second with 41.8cm in historical snowfall, followed by the week prior (14th Jan to 20th Jan 2024) with an average of 40.7cm in the week.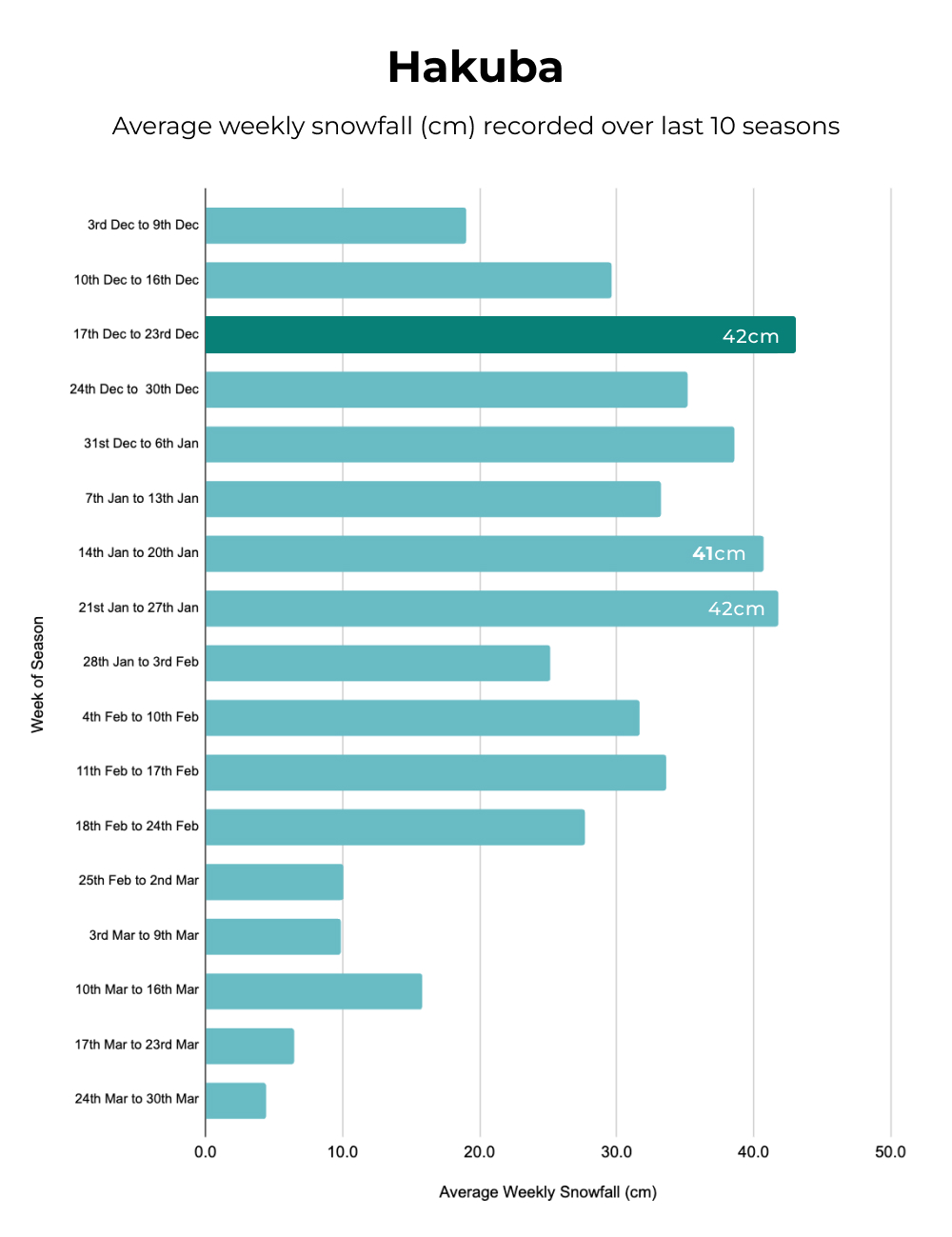 Nozawa Onsen : The best times to go
Nozawa Onsen is a charming hot spring village located roughly one hour's drive from Nagano City in the northern Nagano Prefecture. Over recent years it has attracted international attention not just because of it's great skiing conditions, but unique cultural atmosphere. Historically, the best week of the season by a margin of more than 10% has New Year's week, which is season will be 31st Dec 2023 to 6th Jan 2024, totally an impressive 89.2cm on average over the recorded period. In second place came 4th Feb to 10th Feb 2024 with 75.8cm, followed by 24th Dec to 30th Dec 2024 with 73.8cm.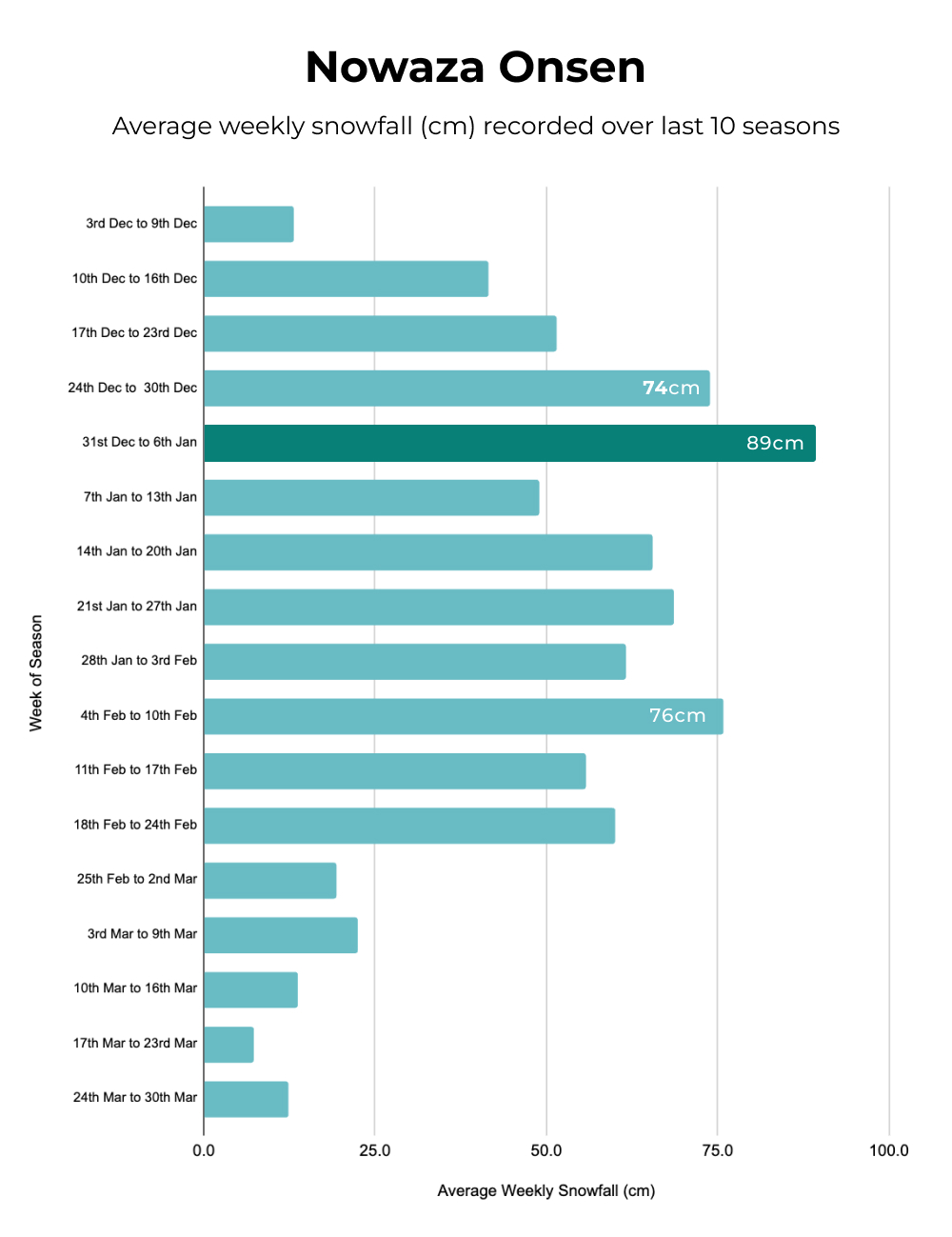 Myoko : The best times to go
Myoko Kogen is one of Japan's oldest ski areas, located 2.5 hours from Toyko. The resort is made up of three separate resorts – Myoko Akakura, Myoko Suginohara and Ikenotaira Onsen, but on top of this, there are even more ski areas area to explore. Of all the resorts assessed in this study, Myoko has recorded the greatest weekly snowfall on multiple weeks. Historically, 31st Dec to 6th Jan has been the snowiest, recording a huge 138.4cm on average over the last ten winters. 4th to 10th Feb has historically brought 123.0cm, while 10th to 16th Dec is closely behind with 122.1cm. However, note that Myoko Kogen's resort opening is usually mid to late December.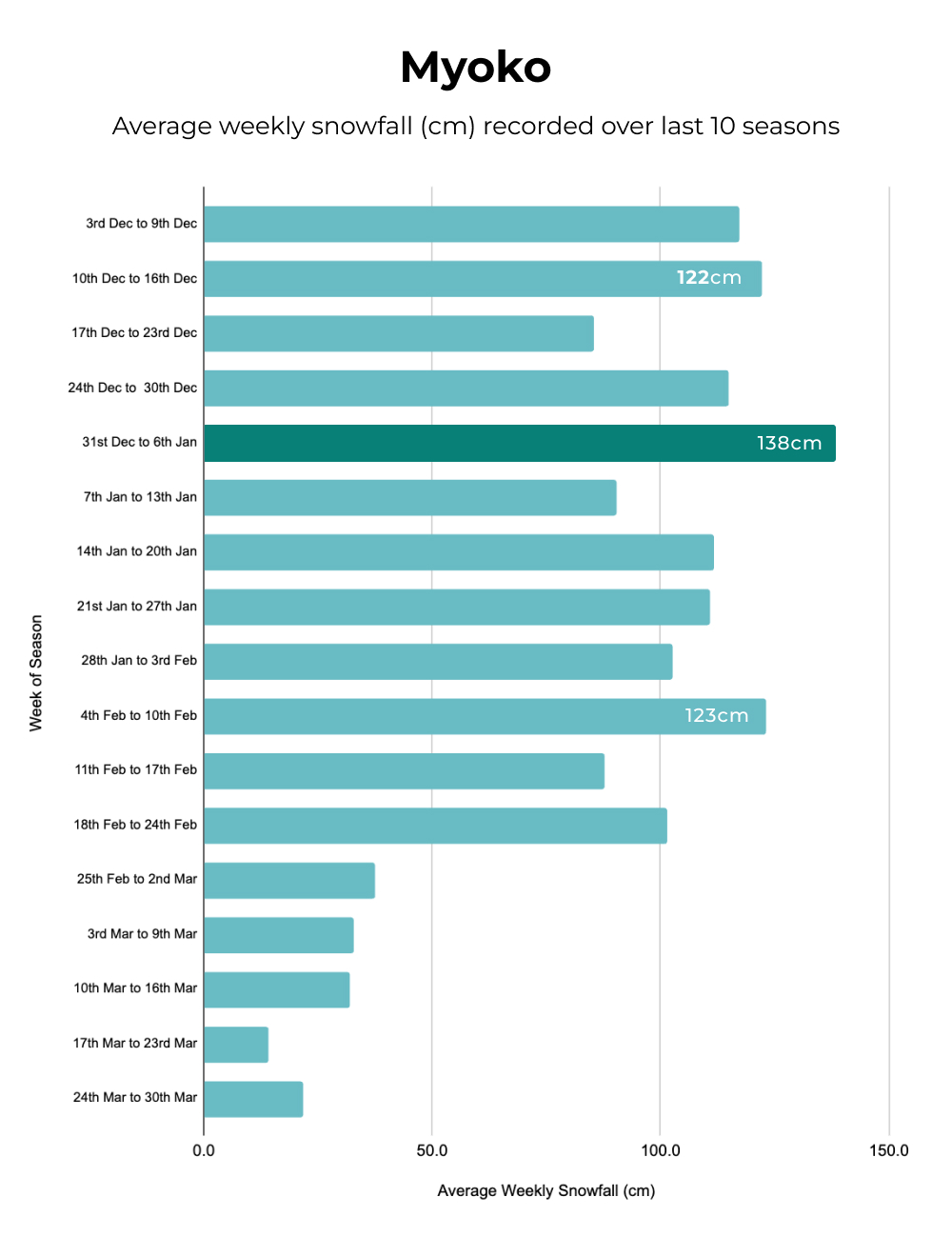 Furano : The best times to go
Located in Central Hokkaido, a popular backcountry and ski touring region of the northern island of Japan, Furano is quickly affirming its position on the international snowsports map. Over the last few years it has grown exponentially in popularity, but remains relatively uncrowded and easy to find fresh tracks.
While total snowfalls are lesser than some of the other resorts analysed, the Central Hokkaido region is famed for the high quality, dry powder snow it receives. Once again, 31st Dec to 6th Jan is expected to be the best week of the season based on the last 10 winters, with an average weekly snowfall of 49.7cm. 3rd to 9th Dec is second with 48.9cm, followed by 24th to 30th Dec with an anticipated 47.6cm.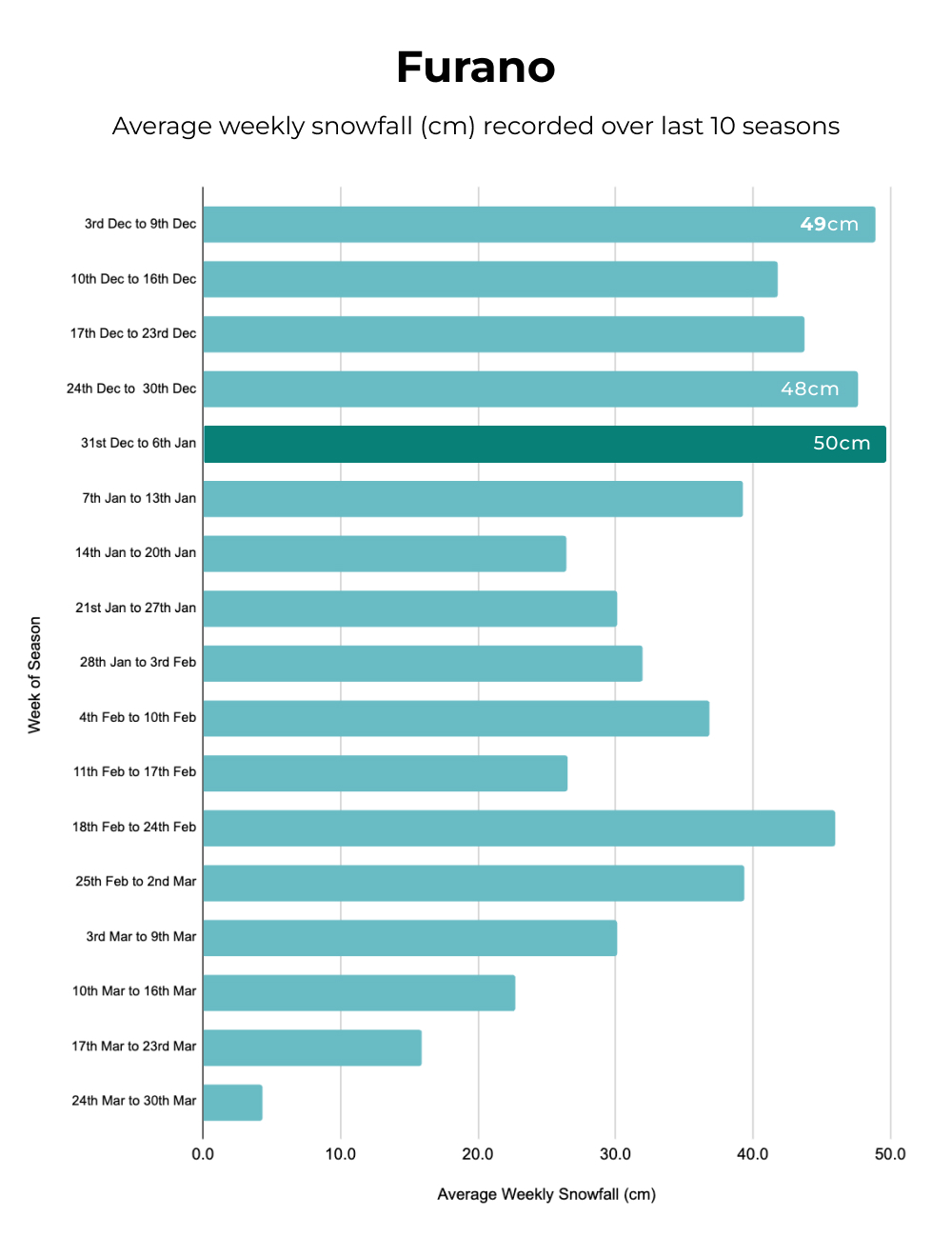 Conclusion
This winter will be Japan's first season without any COVID-19 travel restrictions, so many snowsports enthusiasts from around the world will be hoping to enjoy the snow spoils the country has to offer powderhounds. This analysis highlights not only the impressive amount of snowfall that the country experiences, but the vast different in when that snowfall occurs depending on where you are looking to ski.
Japan is an exceptional destination for ski enthusiasts and seasonal workers in search of great snow conditions, food and culture. Whether you're interested in the lively resort atmospheres or the tranquil mountain villages, Japan offers a diverse range of experiences. We encourage you to explore the opportunities for ski jobs in Japan, as this country's passion for snow sports and its unique cultural offerings are sure to make your winter season unforgettable.
The Methodology
Daily snowfall data for each resort was collected from Snow Japan. Data was collected from December 1st and March 31st for each winter season between 2012/13 and 2022/23 (10 in total). The data collection is based on :
Furano Now comes from close to the base of Furano ski area in Furano City, Hokkaido. About 240m above sea level.

Hakuba Now comes from close to the base area of Happo-one (and Hakuba 47/Goryu) in Hakuba Village, Nagano Prefecture. About 750m above sea level.

Myoko Now comes from close to the base of Akakura Kanko ski area in Myoko City, Niigata Prefecture. About 750m above sea level.

Niseko Now comes from close to the base of Niseko Grand Hirafu ski area in Kutchan Town, Hokkaido. About 250m above sea level.

Nozawa Onsen Now comes from close to the base of Nozawa Onsen ski area in Nozawa Onsen Village, Nagano Prefecture. About 560m above sea level.
The 10-season daily snowfall average for each of date was then aligned to the 2023/24 calendar, and grouped into weekly amounts based on a Sunday to Saturday 7 day week.
The five ski resort areas were chosen based on them being the top searched resorts based on global Google search volume over the winter period (Dec 22 – Mar 23). Rusutsu resort was the 5th most searched resort, but was replaced by Nozawa Onsen due to a lack of snowfall data collection.