TOP RESORTS (CARD GAME)
THE FUN AND INCLUSIVE CARD GAME FOR SNOW LOVERS
PLAY - DISCOVER - SKI
Inspired by the iconic playing card game Top Trumps, we have analysed data from 30 of the world's most famous resorts to bring you Top Resorts! Each of the ski resorts has a series of strengths and weaknesses across the 5 criteria. Use this game to expand your knowledge on unfamiliar resorts and discover your next ski destination. Print at home and play with your friends as you get excited for winter!
Easy rules, endless fun
Download the print-friendly cards from Google Drive here. Carefully cut out each resort card (If printing on paper, you can also easily mount on card).
Shuffle the cards and deal out to players face down (2-6 players recommended)

Players pick up their cards and look at the top card only

Player 1 (left of dealer) chooses one resort statistic which they feel is the best. E.g. Ski terrain – 600km"

All other players then check this stat on their card to see if they can beat it. Highest number always wins.

The player with the highest stat wins all of the other cards, and adds them to their pile

The winner of the round chooses the stat for the next round, and the process is repeated

The first player to collect all the resort cards wins!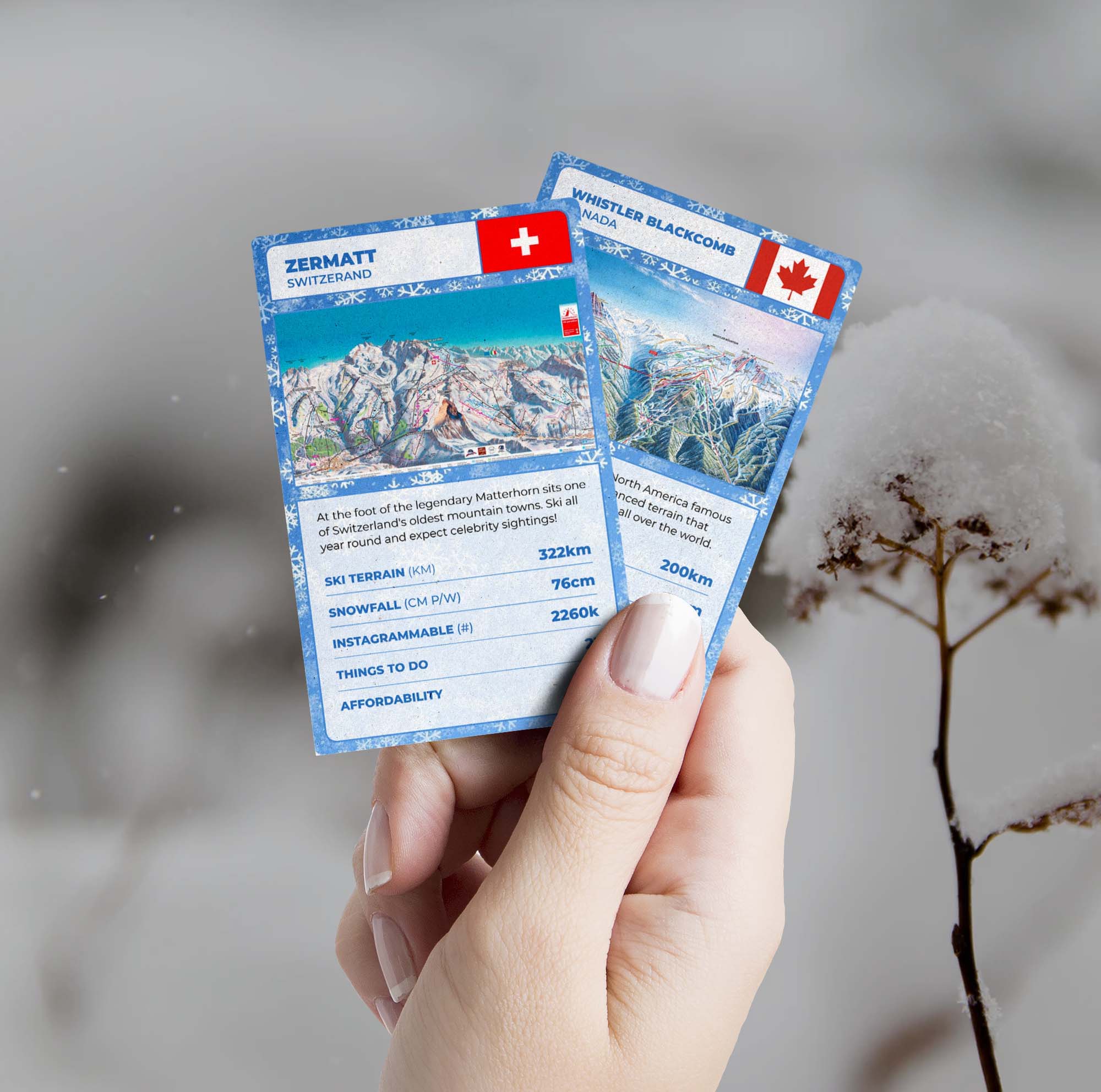 The resorts and their stats
Each game card includes a descriptive bio, a trial map, and five statistics, which help players discover new resorts and compare them against each other. Play the game purely for fun, or use it as a way to plan your next ski trip.
Bigger isn't always better when it comes to ski resorts.
Whether it's Les 3 Vallées colossal ski area, Zermatt's reliable annual snowfall, the Instagram-friendly Whistler Blackcomb, Cardrona's extensive offsnow activities, or Slovenia's Vogal for affordable skiing – every resort has a strength and a weakness in this game.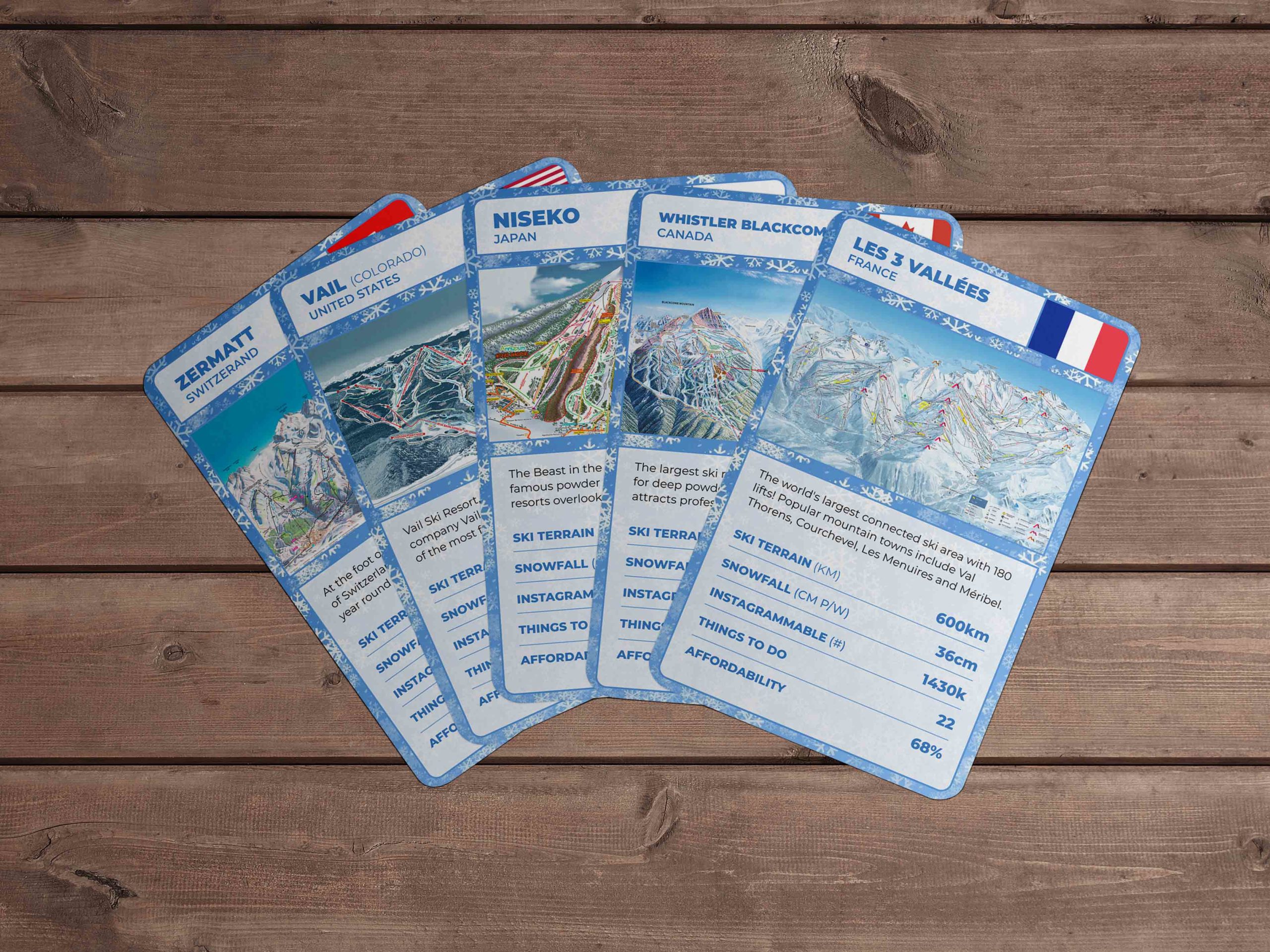 How did we gather the different stats?
The Snow Season Central team has analysed several different data sources to generate a series of resort stats and metrics to compare with, giving you a complete view of each resort. Below you can learn more about the methodology for each of these stats : 
Skiable terrain

– sourced from ski-resort-stats.com and/or official resort websites

Snowfall

– sourced from snow-forecast.com. Using the largest average weekly snowfall for each resort over a 10 year data collection period

Instagrammable

– sourced from Instagram. The total uses of hashtags which relate to each resort

Things to do

– sourced from official resort and destination tourism websites. A total count of substantially different activities on offer to resort guests. For example, snow tubing and cinema would be a count of 2. But if a resort had multiple different spas businesses, it would only count as one activity.

Affordability – sourced from ski-resort-stats.com and/or official resort websites. Taking the peak season daily lift prices, converting each into USD based on currency conversion on a single date (Aug 2020) and transforming into a percentage whereby cheaper resorts score highest and expensive resorts score low.