Using Google Search data we analysed more than 6,000 ski-related terms to reveal which U.S. states are the most snowsports obsessed and whether skiing or snowboarding is more popular to each state's population.
Key takeaways/findings
The most snowsports obsessed states in the United States of America are Vermont, Colorado and New Hampshire according to Google search data (on a per capita basis).
Vermont ranked no.1 with a snowsports search volume of 356,126 per capita (100,000), 638% higher than the national average.
The states with the lowest interest in snowsports were Mississippi, Arkansas, Kentucky, Louisiana and Alabama. Mississippi's search interest per capita was 97% lower than Vermont.
Nationally, 61% of searches were for snowboarding, compared to 39% for skiing.
Vermont also had the highest share of skiing related searches, while California had the highest share of snowboard related searches.
None of the 3 largest states (California, New York or Florida) featured in the top 10.
The most snowsports obsessed U.S. states according to Google
Looking on a per-capita (per 100,000 people) basis we ranked the 50 American states based on their search interest in snowsports, as well as the split in interest between skiing and snowboarding.
When analysing the latest search data from Google, Vermont was crowned the snowsports capital of America, ranking number one for searches per capita (365,126).
On a per capita basis, Colorado came in second, followed by New Hampshire in third and Utah in fourth.
The largest states by population didn't fare too well in the rankings, with California appearing at 17th, Texas at 44th, Florida at 41st, New York at 16th and Pennsylvania at 22nd.
Skiing vs snowboarding : which is more popular in each state?
The study also looked at the popularity of different snowsports by assessing the percentage of searches related to either skiing or snowboarding. The analysis found that at a national-level, 61% of the search interest was for snowboarding, compared to only 39% for skiing.
At a state level, Vermont had a stronger skew towards skiing than the national average, with 52% for skiing and 48% for snowboarding – this was the largest of all states. California had the larger skew towards snowboarding, with 76% compared to only 24% for skiing.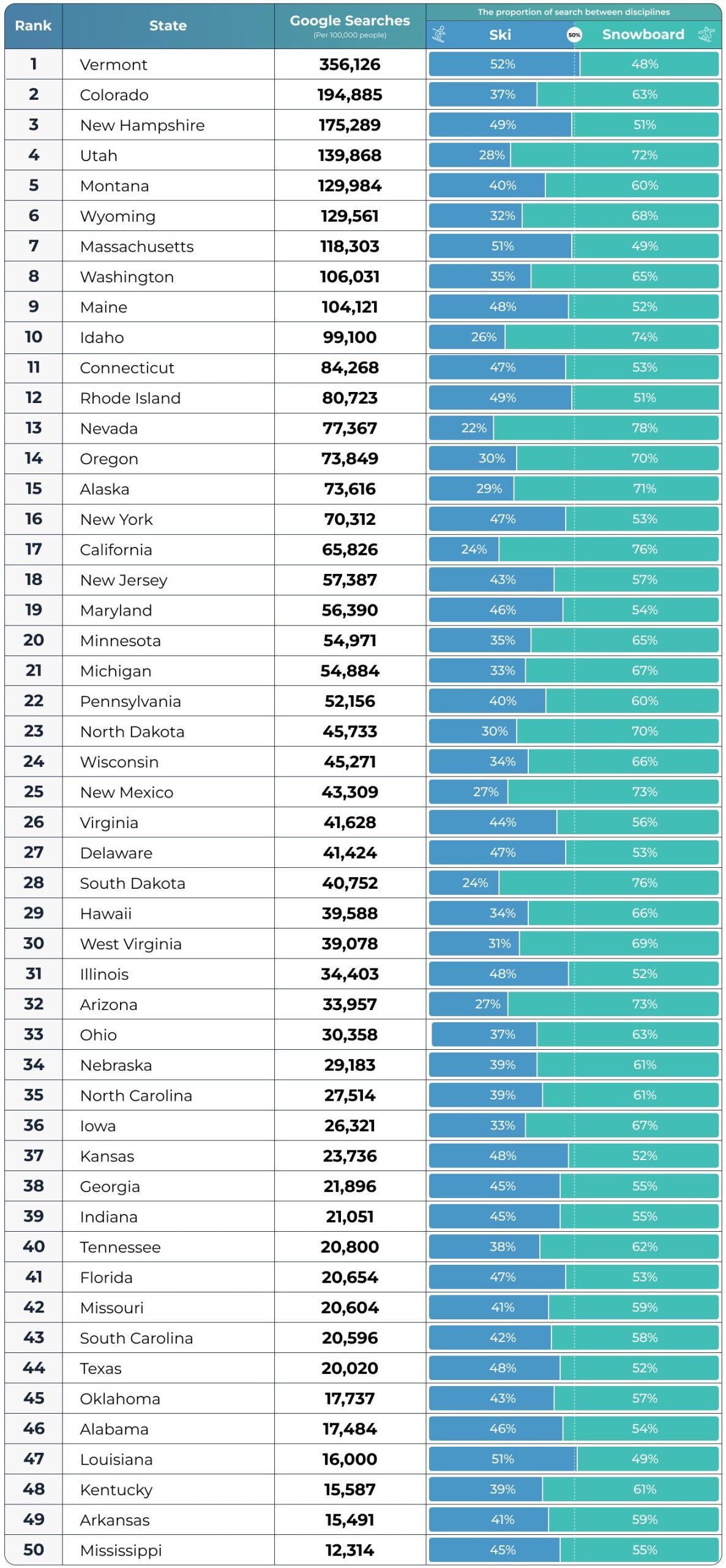 How does the USA compare to other countries
As part of the analysis, we also explored how the USA as a nation performed against Canada, the United Kingdom, Australia and Ireland. The US ranked bottom of these five countries on a per capita search basis.
Snowsports searchers (per capita)
Canada : 69,687 searches
Australia : 45,708 searches
UK : 39,764 searches
Ireland : 34,872 searches
USA : 34,134 searches
Split between skiing and snowboarding
Canada : 32% skiing, 68% snowboarding
USA : 39% skiing, 61% snowboarding
Australia : 34% skiing, 66% snowboarding
UK : 55% skiing, 54% snowboarding
Ireland : 70% skiing, 30% snowboarding
Conclusion
Our study has uncovered an extraordinary and widespread enthusiasm for snowsports across the United States, confirming its position as a haven for winter sports lovers. From the iconic Rocky Mountains' expansive slopes to the high quality powder and adventurous backcountry in regions like Colorado and Utah, the U.S. provides a winter sports setting that is one of the world's best. The mix of top-tier skiing and snowboarding experiences with the warm reception of locals makes it a prime location for those looking to spend a winter season.
Whether you're attracted to the lively vibe of world-renowned ski resorts or the peacefulness of quaint mountain villages, the U.S. caters to a diverse array of experiences for snow sports lovers and seasonal workers alike. Learn more about ski seasons in the USA and make sure to put it on your ski travel bucket list!
The Methodology
Using Google Data (Keyword Planner) we analysed data for a full 12 months between November 2022 and October 2023.
A seed set of keywords was used to generate a complete list of keywords (6,263) covering a broad cross-section of snowsports terms from ski resorts, activities, brands, athletes and other relevant search queries. This keyword list and associates search volume was then segmented against each of the 50 states through targeting in the Google platform. The national and 50 states' population was sourced from https://www.worldometers.info, using an estimation which is an elaboration of data by United Nations, Department of Economic and Social Affairs, Population Division.
For the ski and snowboard comparative statistics, the total 12 month search volume for "Skiing" or "snowboarding" was worked out as a percentage by totally up the two and dividing by each discipline. 
For the national-level analysis the same process was followed and population estimates data were also collected from https://www.worldometers.info.